Cyclones can move thousands of kilometres at an average speed of 12 to 15 mph (20 to 25 km/h). This speed is quite low in the phase of genesis, but it gradually increases that they stray tropical waters and head to the North (for the northern hemisphere). Then their displacement can be faster (700 to 1000 km per day).
This map shows the areas where hurricanes hit more often and
their directions. As you can see it is all along the tropics
(to 10° of latitude) they develop as the water is hot enough.
Click here to see the track of tropical cyclone activity


In the northern Indian Ocean is from January to March they develop. In the North Atlantic and North Pacific, it is between June and September that tropical cyclones form. In the South Pacific and the South of the Indian ocean is from May to June and from October to December that they form.
However, in the South Atlantic there is logically not tropical cyclones that form as water is not warm enough, and then because of the permanent presence of a strong vertical wind shear in the troposphere and the intertropical convergence zone which disrupts cyclone formation.

But the 03/28/2004 a tropical cyclone was observed for the first time in the South Atlantic and hit the coast of southeastern Brazil with winds up to 93 mph (150 km/h) and an average of 74 mph (120 km/h). This cyclone known as Catarina was born as an extratropical stage then is passed to the hybrid stage (warm air at the centre in lower layers, cold air aloft) and became a tropical cyclone at warm core (warm air at the centre at all levels) where there is exchange of energy between ocean-atmosphere.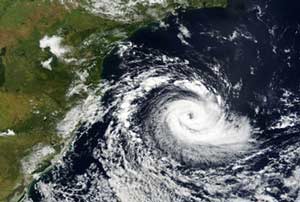 Cyclone Catarina has hit Brazil, this is a rare occurence

WARNING
Patricia Régnier helped me correct mistakes, please you to visit her blog
I'm not english speaker, some improprieties can appear to english masters.
Could you help me reporting by mail any fault you read. Thank you for all.
Contact :